Prasso Online Signup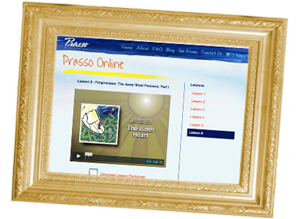 Prasso means, "to practice". It's not just a Bible study, curriculum, or class in which you "learn" things. It's about the practice of,  "living out" the Bible in your everyday life. The problem is that our everyday lives are full of demands, deadlines, and dates and finding time to attend a study is difficult and hard to maintain. That is why we have made Prasso available online so you work through this life changing study on your own time in the comfort of your own home.
What Others are Saying About Prasso
"My heart has been blessed so much through this study as well as my husband's, who also went through men's Prasso.  I can't express in words how much this has started to change our marriage and us individually.  It has really shifted our focus from self to God.  Your curriculum truly does speak the truth in love (Eph. 4:15)."  – SE
"My life was consumed with fear and anxiety before attending Prasso. Though I had gone to church all my life and knew Christ as my Savior I had never experienced  what His grace means in the Christian life. What a weight it took from my shoulders.   I am learning the joy of what it means to walk in His grace."  – KM
How to Purchase Prasso
NEW! Prasso Online – Introductory Price $19.99 (Reg. $35)
Prasso is now available online so you can work through all twelve lessons on your PC. Each video lesson has a downloadable corresponding homework assignment that gives you the flexibility to work through each lesson when it is best for you. Prasso was originally written to be use in a classroom setting, but is equally effective when done alone. The course, including homework usually takes about 12-15 weeks to complete, and as a member you will have 6 months to complete the course. For a limited time you can purchase the Prasso Online Study for the introductory price of $19.99. Simply fill out the information below to start your Prasso Life Study today.
PLEASE NOTE: Video lesson titles may vary from the lesson/homework titles, but they do correspond with each other.